INFORMATION FROM MEMBERS
Nieves Carrasco, Fibre Artist, visit www.nievescarrasco.com
Joe Lewis, Fibre Quarterly E-Zine of Canadian Fibre and Textile Arts is on line at www.velvethighway.com
Juana Sleizer, Fibre Artist. Commission work accepted. Visit tapestryworld.blogspot.ca
Julia Lee, Spinning Teacher in east Toronto area. Email to enquire: provenanceyarnsandtextiles@gmail.com
Johana,  Textile and fibre artist and teacher –  www.loomstudio.ca – offering weaving and dyeing classes in my Toronto studio.  info@loomstudio.ca
WANTED
WANTED: Bobbins for a Nilus Leclerc spinning wheel.  If you have some that you don"t need anymore, please contact Sharon.    sharon.elisabeth@gmail.com
SOURCING:   I am reaching out to your Guild because I am a fourth year student in textiles at Sheridan College and am currently completing my thesis year.  For my thesis project, I am weaving a series of rugs and wall hangings.  I am interested in exploring sustainability in textiles as a large component of my research and so for my materials, I would like to attempt to weave with selvedge waste (similar to rag rugs).  I was wondering if anyone within the guild knew of any mills who would be willing to donate their other wise "garbage" selvedges. I have connected with a mill in North Carolina who is willing to do so, but I am interested in trying to stay more local.
Thank you in advance for any information you may be able to provide.  
 Claire Dunlop. tel: (416) 659-7052
TO BUY:   Used Woven or braided style rugs.
I am looking to buy a large quantity of very well loved woven or braided rugs.  Sadly In September of 2016. My father was diagnosed with a very rare and very aggressive stage 4 cancer and we have found much comfort working together (when able to) to create what I am calling our garden of hope. It has given us many great memories and hopefully more to come!  We are looking to use these very well loved rugs as the base to our garden walkways and we have a very Large area to cover. If you have any rugs or can give me any leads, it would be greatly appreciated.  Contact Karyn.   whitskay@hotmail.com
TO BUY:  In search of a table loom to buy.  Contact Emily Neill.     emilynicoleneill@gmail.co
ITEMS FOR SALE
Free postings. Please use the Contact Us form to send your listing.
October 2017:
Shuttlebugs have a countermarche loom for sale or gift.                                                               This loom was gifted to Shuttlebugs from a member of Treadletrompers, but has not had as much use as it deserves.  It needs to go to another home,  either as a gift to another guild, or,  as a sale to an individual for personal use.  Price is by discretion, as the monies involved will be split between the Treadletrompers and the Shuttlebugs.
We are located in Greenwood, Ont.  just north of Pickering.                                                  Contact: Judy Findlay jkfindlay@bell.net
Dimensions:  6′ x 6′ x 6′.    12 harnesses, 16 treadles,  weaving max. width  60-64″, good shed.                                                                                                                                   
FOR SALE:  A small number of whole Jacob Sheep fleeces, skirted but raw, which sell for 15$ a pound. Each fleece contains a different distribution of the three Jacob colours (white, gray, and chocolate) and is ideal for spinners, felters, weavers, dyers, and the like. If you are interested please get in touch with Jessica Radin at   radinje@gmail.com   " We will try and see if we do indeed have that fleece you have been dreaming of. "
FOR SALE:  23″  Minerva Leclerc loom; (jack);   8 harness;  4 reeds – 8,10,12 & 15;  bench with side baskets.  Asking $500.00.       Contact  Judy Findlay,  Uxbridge, ON    jkfindlay@bell.net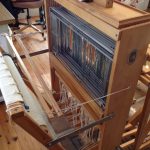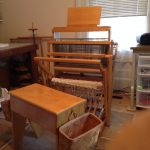 September 2017:
FOR SALE: Leclerc Nilus S8 45″ floor Loom. Used but in good condition, with lots of accessories – pictured. Bought new for $4500. Located in Cambridge, Ontario. Pickup required – you may need a van. Asking $1500 or best offer. If interested contact Helmut: bockhf2000@yahoo.ca
August 2017:
FOR SALE:  45″ AVL Weaving Loom SN 00985 – like new, hardly used. 4 Harnesses – 6 Treadles. Sold by original owner. Hi-quality, solid maple loom was purchased in 1990 for $5000 from the US manufacturer. Loom is comparable to AVL's current A-Series treadle loom, but with a full frame design (2 large squares) and has an integrated bench. This is an ideal treadle loom good for projects large and small – versatile and comfortable to weave on, perfect for production weaving. The side-tie system makes changing your treadling sequence quick and efficient (no crawling around under the loom). Heddles are polyester, automatic warp tension, automatic cloth storage system, warp and cloth are stored at the rear and aprons with rods are included. Loom can easily be expanded with additional harnesses, warp beams and a Dobby head for producing intricate designs. ALSO INCLUDES: original assembly manual, several reeds, lease sticks, a warping frame and various other accessories plus weaving instruction books.
This loom is not currently assembled and is located in Oakville, Ontario. It has been stored high and dry in a bedroom. Can be easily transported in a pickup or small UHaul and delivery can be arranged. Asking $1987 or best offer. If interested contact Cheryl: cheryl@kickstartyourcompany.com
FOR SALE: Nilius Leclerc 60 inch, 4 harness, 6 treddle Jack loom in excellent condition. Extras include: 4 reeds (8 dent, 10 dent, 12 dent, 16 dent),  original book, crank and assembly hardware, 60 inch raddle, >1000 extra heddles, 3 warp sticks, a maple top beam still in it's original wrapping, a bench with side pockets and about 200 pounds of wool and wool/yarn mix on spools and in skeins. Asking $2500 or best offer. Pick up from Prince Edward County, near Belleville. If interested contact Diane: dianekjohnson1969@gmail.com
July 2017:
FOR SALE: Ashford Kiwi spinning wheel and drum carder. Both in excellent condition, lightly used. Spinning wheel comes with 3 bobbins. Asking $425 for the wheel and $525 for the carder. If interested contact Gillian: gillian.collyer@gmail.com
June 2017
FOR SALE: Nilus Leclerc 45″ Colonial Loom and accessories for sale. Original version. Canadian Maple. Can be set up for Counterbalance or Jack Loom. Parts for both styles included. Loom is ​​not assembled. Assembly instructions included.
Comes with: 8 harnesses (can be converted to 4 or 8 harness), 8 jacks / Reed-12 dent / 10 Treadles / Open-sided bench / Vertical Warping Mill / Lease stick / 4 warping rods / 2 boat shuttles / Umbrella Swift / Bobbin Winder /  4″ Plastic Bobbins / Books
Sold as entire package only. Pick up Brampton location. Fantastic Deal! Must Sell. $1500 or Best Offer. For more info email deb.d.moore@gmail.com
May 2017
WEAVING INSTRUCTORS NEEDED: Eweknit in Toronto are looking for additional teachers to teach: (1) tapestry weaving, (2) rigid heddle loom weaving, and (3) floor loom weaving workshops. Email with a sample of your work if interested, or to ask for more information: info@eweknit.ca
DONATION: Leclerc Floor Loom "Nilus" model ready to give away. Located in Newmarket and the loom would have to be picked up. If interested contact Jim Barber jbjblgb@rogers.com
FOR SALE: Hand woven piece of material, 36″ wide and 60″ long. 3 tone woven in dark blue, dark green, dark brown. If interested contact Merel Elinkschuurman merel.elink@gmail.com
FOR SALE: Ashford Traditional Spinning Wheel (from the 80s) in working condition, but missing a brake line / spring system. There is some damage but it doesn't prevent it from working. It comes with two bobbins (one original, one newer). If interested contact Evelyn Wainewright evelynwainewright@gmail.com
FOR SALE: 36″ Leclerc Inca 4 shaft Counterbalance Loom  – in great working condition, some very minor cosmetic damage from a previous owner taping some of the parts together to store. It comes with a 10-dent reed. If interested contact Evelyn Wainewright evelynwainewright@gmail.com
FOR SALE: 4 shaft table loom  – it's an older loom that could do with some TLC. It comes with the reed pictured. Weaving width 15″. If interested contact Evelyn Wainewright evelynwainewright@gmail.com
March 2017
FOR SALE: Brand new (bought last year) 15″ flip rigid heddle loom made by Schacht with accessories, two rigid heddles (a 5 dent and an 8 dent), and a book 'Inventive Weaving on a Little Loom' by Syne Mitchell. $150. Located in the Square One area of Mississauga. If interested contact Shirley Turvey: turveys@rogers.com.
February 2017
FOR SALE: Singer Chunky knitting machine model 155 with ribber model SR-155. All parts and manuals included. Asking $500 for both. Please contact barbaikman@sympatico.ca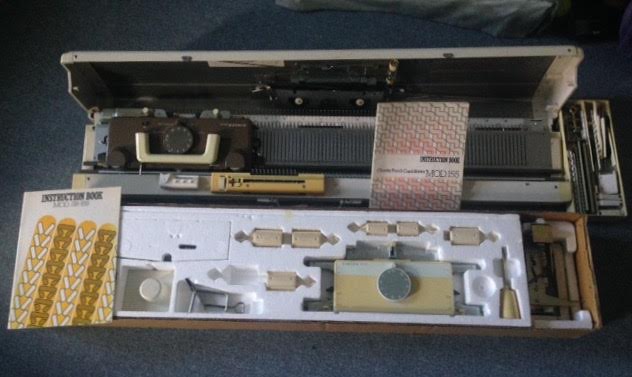 December 2016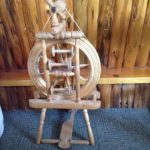 FOR SALE: Solid maple Sedora upright spinning wheel in perfect working order – a dream to spin on. This wheel is the last Sedora design crafted by the inventor before his death, encompassing 45 years of expert refinements to the design, and is now a collectors item. Asking price $650, located in Brighton, Ontario. If interested call or email Garnet McPherson for a viewing: 613-661-0104 / garnet.mcpherson@gmail.com
October 2016
Leclerc Gobelin 60 inch Tapestry Loom for sale – best offer. Located near Uxbridge, Ont. If interested contact Tom McCreight: tjmccreight@aol.com /416-540-9831
Cones of rug wool for sale – ivory, navy, red, crimson and some lighter blue in skeins. Purchased from R&N yarns Georgia. $20 for all, pick up at Dundas and Dufferin. If interested contact Susan McLeod: m_mcleod@sympatico.ca
T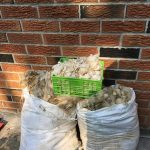 wo beautiful, raw, unwashed fleeces, sheared from the same sheep on two separate occasions. They're full of vegetable matter and need a lot of love, but could be revived by the right person. Free to anyone who would like them. If interested contact Andie Pople: andie_hp@hotmail.com

September 2016
Leclerc Fanny Loom – 4-shaft 36″ with bench and lots of accessories. In Cabbagetown, 2 blocks from Riverdale Farm. Pickup to be arranged by buyer. Asking $500 ono. Contact public@gouldingconsult.com if interested.
August 2016
63″ Glimakra Standard floor loom for sale, in beautiful condition. 6/10 Counter balance or counter march setup. Bench, shuttles, several reeds etc. $ 3200. Located between Chatham and London. Email Eli Natvik, natvikrm@icloud.com.
June 2016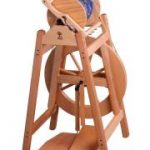 For Sale: Ashford Country Spinner II, like new, $690.00, best for pickup, located in South-East Mississauga.
Contact Deb djsmithers@hotmail.com.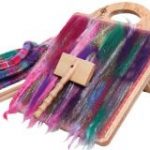 Ashford Blending Board, great condition, $160.00. Pick up in South-East Mississauga, or shipping is responsibility of purchaser. Contact Deb djsmithers@hotmail.com
June 2016
Homemade 48 inch loom for sale. Built from plans called The Oregon Loom. Please contact Lynn Webster, lwebster@sympatico.ca.
May 2016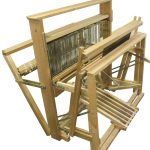 4 shaft Leclerc Jack weaving loom for sale.  Includes: loom bench, reeds, several books, new attachments. Live on 2nd floor of apartment building near St. Clair and O'Connor, and do not have elevator. Would like to sell asap, asking $800. Looks very similar to this photo. Email Eleonora at elleonora53@gmail.com
March 2016
For Sale : Cranbrook Loom – Countermarch
Specifications: 96 "wide, 8 shafts, 10 lockdown treadles, Overhead beater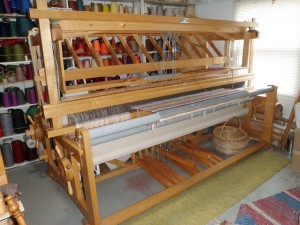 Accessories included:
• Built in spool rack
• Lease sticks
• Stretcher
• String heddles ( seine twine)
• Suspended tool shelf
• 3 ski shuttles
• 6 epi reed
• 8 epi reed
Details: Very good condition; price: Can $ 7,500. Shipping responsibility of the buyer; will disassemble for shipping; free re-assembly within a 200 km radius from Newmarket, Ontario (appr.50 km north of Toronto). Telephone Ursula: (905) 898-1580 , Email Petra: psabinesmith@gmail.com.