A Virtual Tour of Wellington Fibres, with owner Donna Hancock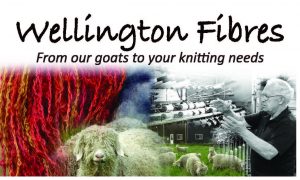 Donna grew up on a beef and dairy farm near Oshawa. After graduating from the University of Guelph with a BSc. Agr., she started working in the Department of Plant Agriculture as a forage research technician and still does today. In 1989, she purchased a small farm, starting with a flock of six Angora goats which soon grew to 50. This led to sending mohair out for processing into yarn and dyeing it upon return, then selling the yarn. She attended the spinning certificate program offered by the Ontario Handweavers and Spinners and graduated in 2000.
In 1997 Donna married Lorne Thomson and they decided to expand the business of Wellington Fibres. In 2006 they opened up a mill with the intent to process their own mohair and do some custom processing on the side. Soon the demand for custom processing grew to more than a side business. They now process fibre from all across Canada, from Nova Scotia to BC. In 2012, Lorne died from cancer and Donna decided to continue with the business. She has three great employees that have allowed her to continue with her work at the university four days a week and one day to focus on Wellington Fibres. Soon she will be retiring to Wellington Fibres fulltime.
We look forward to Donna's virtual tour of the goats and the mill at Wellington Fibres.