Information, Education and

Workshops
The guild announces workshops from time to time, we have an extensive library from which members can borrow, as well as learning opportunities through our regular program activities and by meeting with other weavers and spinners in the guild.
Drop In at Riverdale Farm
SPINNING AND KNITTING DROP IN – on hold during Covid-19
An open session for spinners and knitters to socialise and work on their own projects. Feel free to join us anytime – it's totally free to come along! A couple of spinning wheels are available to use, or you can bring your own.
When: Thursdays, 1pm – 3pm (please check the calendar for current dates)
Where: The Residence at Riverdale Farm
Special Events
Various fibre events are happening in Ontario and further afield on a regular basis. Do check out the calendar to see what's coming up soon.
Spinning
Ontario Handweavers and Spinners
Spinning education is provided through Ontario Handweavers and Spinners. Visit their website to view an outline of the OHS Spinning Certificate program.
YouTube has a number of videos for spinning. Here are a few:
Spinning wool yarn on a bobbin-driven wheel
Preparing and spinning wool yarn on a flyer-driven wheel
Setting up and spinning on a Lendrum (flyer-driven) wheel

Julia Lee is a member of the guild and a spinning teacher in the east Toronto area. Email to enquire about lessons at provenanceyarnsandtextiles@gmail.com.
Weaving

In Toronto, there are two weaving schools that offer studio classes (see website links for dates):
City of Toronto
Cedar Ridge Creative Centre
225 Confederation Drive, Scarborough
Toronto District School Board (Etobicoke)
Mimico Adult Centre
255 Royal York Road, Etobicoke
Ontario Handweavers and Spinners
Weaving education is provided through Ontario Handweavers and Spinners. Visit their website to view an outline of the OHS Weaving Certificate program.
Local Stores and Studios
The following local yarn, fibre and haberdashery stores have occasional weaving workshops:
Backstrap Weaving Workshop
Looking for a hobby want to give a creative, one of a kind gift? Join our workshop on Backstrap weaving. Learn the ancient art of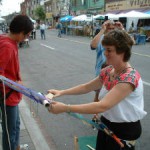 weaving on this practical, portable loom. Leave the workshop with your own handwoven article. Beginner/introductory classes. All materials provided. Register or call Patricia at 416-769-3778 or email wovenbridge@gmail.com.
Other
Haliburton School of the Arts
With a well-established reputation for excellence, the Haliburton School of the Arts (HSTA) has been a forerunner in arts and crafts education for the past 37 years. The Haliburton campus runs summer session credit courses in spinning and weaving.