Beginning September 2022 we are holding a mixture of in-person and virtual (via Zoom) meetings. The October and November meetings will be virtual. We are planning an in-person meeting for December.  Members will receive an e-blast prior to each meeting to provide details of the Zoom link or meeting location.   We would love to see what exciting fibre projects are keeping you inspired  these days. You're welcome to send us photos by email, or post them on our Facebook page. We will share them with other members.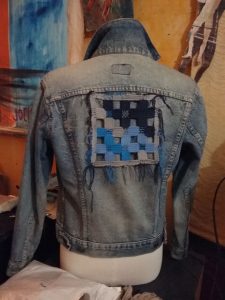 Joe Lewis wove thrums and leftovers into a grid to decorate his denim jacket. Nice work, Joe!
************************************************
The Toronto Guild of Spinners and Weavers aims to promote the crafts of handweaving, spinning and dyeing by advancing the skill and artistry of those practicing the crafts within the guild and the community through educational programs of interest and value to our members.