Postings on this board and the 'For Sale' Board are free.
Take a look at the 'For Sale' Board – someone may have the item you are looking for for sale already!
Please email us to send your listing. Please include a description of the item you're looking for, where you are based, and your email contact.
Please let us know when you find your item!
WANTED (September 2023): Emily in Hamilton, ON is looking for a hand-cranked drum carder.
WANTED (March 2023): A member would love to borrow a copy of either of Tamara Poff's books of sewing patterns for 15″ rigid heddle loom. Please contact Miriam.

WANTED (March 2023): Looking for small to medium temples (stretchers/tenterhooks) of either wood or metal, and also end delivery shuttles. Preferably in the range of $50. Available to pick up in the GTA. Please contact Philippe.

WANTED (March 2023): Looking for a flying shuttle beater for a 60 inch leclerc loom. Must be complete and in working order. Located in Haliburton. Please contact John.
WANTED (February 2023): A Matchless Cherry DT wheel (heart set on cherry, not maple, please!). Preferably in mint to new condition from a smoke-free home. Based in Niagara, and willing to pick up within a few hours. Please contact Blanche.

WANTED (November 2022): a used 8 dent reed for my 45″ Mira loom. If you have something that might work, please contact Maria. (Edited Feb 2023).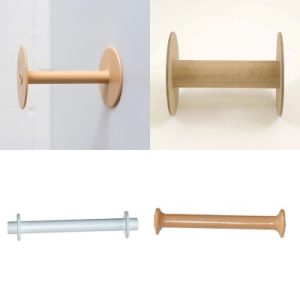 WANTED (September 2022): a weaver based in Peterborough is looking for 4" spools and bobbins made of cardboard or styrene (plastic). Depending on the location of the seller I'm willing to either pick up or pay for shipping. If you have some to pass along, contact Carly.

FOUND: Someone put a 1950s 45″ Nilus LeClerc loom out for garbage before Christmas and I couldn't resist. I haven't put it back together yet, but for sure it is missing the crank, a raddle and lease sticks. It has a 5 dent reed only. I'd like one or two other reeds. If you have an old LeClerc that is beyond rehabilitation and want to sell any of these bits and pieces, I would love to buy them! I can pick up in Toronto area. Contact Miriam.
WANTED (January 2022): Small (old fashioned) boat shuttles, spindles, cotton carders, reeds for a Dorothy table loom and Asian bamboo/wooden reeds. Please Contact Preetam
WANTED (January 2022): I live in Novar, Ontario (about 15 minutes north of Huntsville) and I'm looking for used, local(ish) equipment, in particular:
niddy noddy
ball winder
jumbo art flyer for a Kiwi 3 spinning wheel
extra bobbins for the Kiwi 3
lazy kate
I'll drive the area from Muskoka to Toronto. Or pay for shipping. Call me, Casie, at 705 571 6600 or email.
WANTED (September 2021): I am looking for a used, 8 dent, 16 inch reed for my LeClerc Dorothy loom. Contact.
WANTED (May 2021): I am looking for a 90 inch floor loom. Contact.
WANTED (September 2020): A used table loom, please contact Jacquie. She is new to weaving and looking for a used loom to purchase.
WANTED (September 2020): A set of used wool combs that clamp. Please Eileen know if you have a set you are looking to pass on. She lives outside Toronto.
WANTED (July 2020): Wool combs, table-mounted or hand-held. Preferably 2-pitch. Please contact Ginette .
WANTED (February 2020): An 8-shaft table loom. Please contact Jill Eason Jilleason123@gmail.com
WANTED (January 2020): A used 8 dent reed, 38 to 45 inches wide. Please contact Joan Harris.
WANTED (August 2019): Looking for a 27 or 36″ 8 shaft jack floor loom or table loom. If you have one for sale contact Johana at info@loomstudio.ca
WANTED (April 2019): A used 8-harness 36 or 45" loom, front hinged treadles, in good to excellent condition. Contact Shirley Murphy by email (www.hummingbirdweavin.com) or at 613-504-2993.
WANTED (Jan.2019): 60″ gobelin loom to purchase used. Contact Gigi: Gervalia52@gmail.com
WANTED: 24″ Rigid Heddle Loom, folding would be a plus, with lots of accessories: extra reeds, shuttles, pick-up sticks, threading hooks, stand, etc. Even some material included would be a great. Preference for Ashford looms but others are good also. If you can help please contact Jim: walterpump@gmail.com
WANTED: Looking for a Salish loom for an upcoming 80th birthday. Do you know if there is a local source of a finished loom or the materials to make one? If you can help please contact Janet: westernwilson@dccnet.com
WANTED: Bobbins for a Nilus Leclerc spinning wheel. If you have some that you don"t need anymore, please contact Sharon: sharon.elisabeth@gmail.com