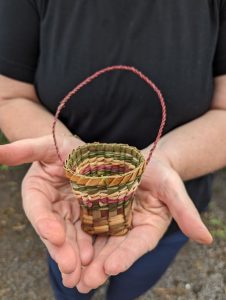 Saturday, December 2, 2023 10am-4pm
Simpson House in Riverdale Farm, 201 Winchester St., Toronto M4X 1B8
The Toronto Guild of Spinners and Weavers is pleased to host a Fairy Basket Weaving Workshop from Agnes Niewiadomski. In this workshop, attendees will learn to weave a miniature "fairy" basket made from willow bark, garden leaves and other natural materials. This is a beginner level workshop that will introduce you to fundamental weaving techniques and material preparation. A cordage making lesson will also be offered during this class and can be used in the creation of your project. This workshop is open to ages 10+ and no prior weaving experience is required.
Instructor Bio
Agnes is a visual artist (OCAD Sculpture/Installation grad), small business owner and camp director of Mindful Makers. She offers hands-on arts programming to kids and adults in and around Waterloo Region through day camps, workshops, festival events, craft kits, and her locally produced TV Show!
Agnes is passionate about teaching hands-on skills and spreading the joy of making through a multitude of crafting methods including: sewing, printmaking, felting, dyeing, weaving, electronics, 2D and 3D modeling, sculpture, mold making + casting, book binding, papermaking cardboard and paper crafts. Many of her projects are now available as at-home kits and can be ordered through her website: www.mindfulmakers.ca
IG: @agnesmakes @mindful_makers
Cost
Toronto Guild of Spinners and Weavers Members: $130
Non-Member: $140
Registration Details
-Space in the workshop is limited. Registration will be open to TGSW Members from November 1-November 6, and any available spots after that point will be opened for registration to anyone.Simpson House is wheelchair accessible from the north side of the building.
-If you would like to access member pricing or early registration for the workshop, you can sign up to be a member of TGSW online here (https://toronto-guild-of-spinners-and-weavers.com/membership/).
-No refunds will be possible, but your registration can be transferred to another person by emailing the Guild at email@toronto-guild-of-spinners-and-weavers.com before 12PM ET on December 1st.
-We ask registrants to wear masks during the workshop, and practice social distancing as much as possible.
-Please bring a packed meal if you'd like a lunch break during the event.
-If you are feeling ill or have COVID symptoms the day of the event, we ask that you do not attend the workshop. Please get in touch with us (email@toronto-guild-of-spinners-and-weavers.com) if this is the case, and we will follow up with you about options.
-You can plan to pay for registration by Interac, but please ask if you'd like another payment option.
-Please plan to pay for your registration shortly after you receive confirmation that space is available. We will only hold registration spaces open for a short time.
-If the workshop is full, we will start a wait list in case a registration opens up, and notify interested participants in the order in which their emails are received.
To register for this event, please email Lisa at email@toronto-guild-of-spinners-and-weavers.com with the subject line "Dec 2 Fairy Basket Workshop Registration".