In 2021 two Guild members were awarded bursaries to further their skills and to share their artistry. Spinner Roslyn Darling undertook a study of yarn created with cotton and feathers: Spinning the Wind. She is planning to weave some samples using these plumed yarns, and has photos of truly amazing textiles from the Museo Textil de Oaxaca 2016 exhibit to share with watchers of her presentation.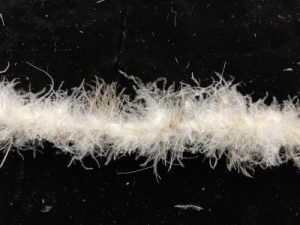 Textile artist Joe Lewis mounted an exhibition of his work: One Thought: 20 Years of Making Textile Works.

We look forward to learning from these two dedicated artisans, and seeing their processes and the products as they worked on their sponsored projects.